I have four published children's books. (If you're looking for my short ebooks for grown ups, check here.)
All of these books are also available on the Epic! app, which is a subscription reading service for kids.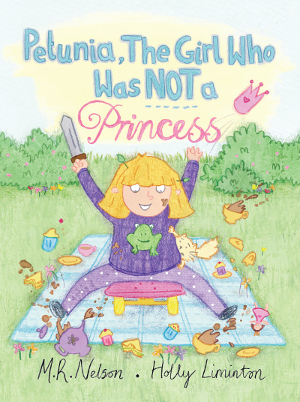 Petunia, the Girl Who Was NOT a Princess
This is the story of a little girl who is most definitely NOT a princess, and what happens when a new little princess moves next door... and wants to be friends. It has wonderful whimsical illustrations by Holly Liminton. I love the positive Amazon reviews like this one, which picks up on how we worked to make this book show inclusiveness of all types. But my favorite review of this book comes from a friend's 7 year old daughter, who stuck a sticky note on her copy saying "I love this book!"
The Zebra Said Shhh
This was my first published book, with beautiful, colorful illustrations from Tamia Sheldon. It grew from a bedtime story I told to my older daughter every night, it an ultimately futile attempt to convince her to fall asleep without my company. It never worked any sleep magic for us, but my favorite Amazon reviews are the ones that say it is working magic for other families! In fact, this Amazon customer review may be my favorite review ever, on any of my books.