Have You Seen My Potty, by Mij Kelly, illustrated by Mary McQuillan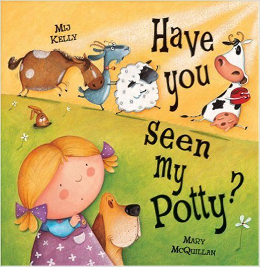 We were recently in New Zealand visiting family. My nephew is in the midst of potty training, and both my husband and I found ourselves reminiscing fondly about this book. It was a gift from some friends, and it was by far the most fun to read of our potty training books.
A little girl's potty goes missing, and she goes around asking all the farm animals if they've seen it. They don't know what a potty is… but it turns out that they quite like using one. It is a cute and fun story, and the rhymes are good. Whether or not it helps with potty training, I do not know. But at least you'll enjoy reading it while you try!
Buy it at: