When the Shadbush Blooms, by Carla Messinger and Susan Katz, illustrated by D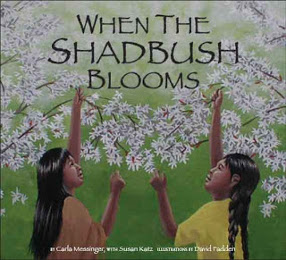 avid Kanietakeron Fadden
With Thanksgiving approaching, this is a great book for anyone who wants to try to have a discussion about what Native American life actually was like- and is like. Unlike so many books about Native Americans, this one includes the present day.
This is a beautiful story of the seasons, and of continuity and change through the seasons and across the generations. The story focuses on the Lenape tribe, but the themes really are universal. Like so many great picture books, there are many layers in the story, and it rewards the repeated readings kids love.
We had it home from the library and loved it. Sadly, it seems have quite limited availability now, so your best chance of reading it is probably to find it in a library, too. Since it is so pricey on the big retailer sites, I won't include my usual links to them. If you are willing to pay a premium for it, consider order a signed copy directly from the author.