Footsteps through the Fog, by Margaret Mahy, illustrated by Gavin Bishop
This delightful book is another one we received as a gift from New Zealand, but a quick search shows that it is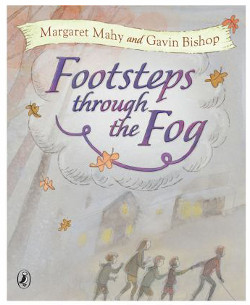 available in the US, too. It is the story of five siblings who set out for a visit to a nearby beach. On their way out, their mother tells the oldest to "take care of Anthea," who is blind. But when a thick fog rolls in while they are at the beach, it is Anthea who takes care of everyone else, and is able to lead the way home.
This is a gentle story without much action, but my kids really like it. I enjoy the evocative descriptions of what Anthea hears and smells, and it is a nice reminder that people with disabilities really have different abilities, and that their unique strengths can help us all.
Our copy of the book has the title printed in braille and the braille alphabet on the back flap, which fascinated my daughter when she first got the book.